Wadi Makkah for Technology Company is an investment Company wholly owned by Umm Al-Qura University. The Company was established by Royal Decree No. (M/32) on 11 Jumada Al-Awwal 1433 AH. The Company aims to actively contribute to the development of the knowledge economy through the partnership between educational and research institutions and the business community and investment on a commercial basis, by investing in joint projects that refine experiences and practical application for university students and professors. Wadi Makkah Company has limited liability subsidiaries wholly owned by Wadi Makkah for Technology Company, each of which was established by a resolution of the Board of Directors. Each of these companies provides different services that achieve the mission and vision of Wadi Makkah for Technology.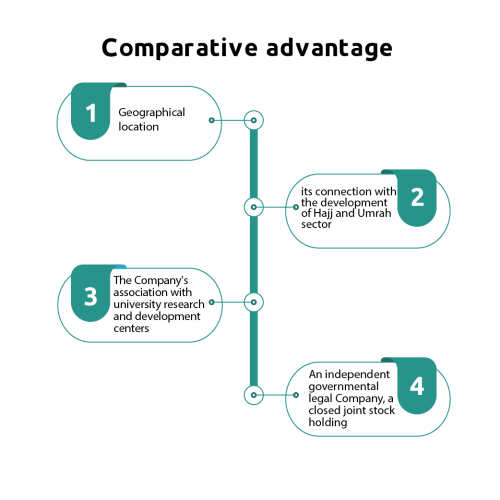 Mission
To invest in people, places and intellectual production in a way that enhances our role in building a knowledge-based society and economy.
---
Vision
To be the world's leading technical arena for creativity, innovation and entrepreneurship to achieve economic growth and enrich local content.
---
Strategic Goals
1-Investing in the technology transfer and development industry
2-Preparing university students to work in the private sector through training and qualification and providing appropriate career opportunities during the academic stage
3-Providing the appropriate environment for conducting economically feasible scientific research to serve knowledge economy
4-Establishing and investing in technology incubators
5-Investing patents, intellectual rights and industrial models
6-Investing in supportive economic activities and knowledge industries
7-Attracting distinguished talents from scholars and consultants
8-Providing investment opportunities in scientific research and development for faculty members
9-Providing consultations in the field of education development, scientific research, and technology industry
10-Investing in developing the land allocated for the Wadi Makkah for Technology Project and available university lands to provide an attractive environment for scholars, employees and their families
11-Attracting local and foreign investments to participate in supporting the Company's objectives and cooperating with bodies, companies and institutions that engage in similar or complementary activities to theirs.